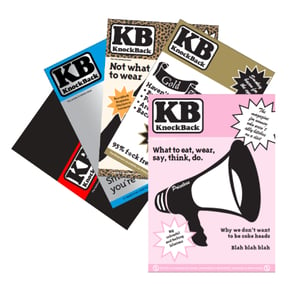 £

20.00
Unfortunately for collectors of sets, we are no longer able to supply a complete and functioning back catalogue.
Issue 1 has finally bitten the dust, the last box was ceremoniously crushed underfoot and put out with the recycling. Don't worry though you can download the pdf for free here:
http://www.knockback.co.uk/back-issues.php#
Issue 2 - Sugar coated and sold out, this issue was released in 2007 and is choc-full of typos, grammar upsets and inappropriate references to cake. Due to popular demand we have not made this available as a pdf.
Issues 3, 4 and 5 are still in stock although increasingly in short supply so that's something to be cheery about.